---
Interactive Brokers and IBKR have been all the craze as of recently, recently they announced 0 commissions on trades through the IBKR app plus they have the best technical analysis tools and algorithmic trade API.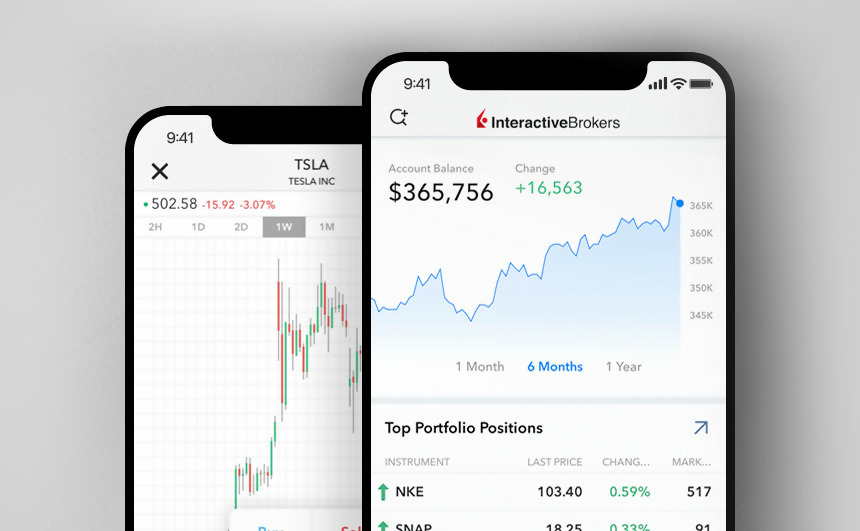 About Interactive Brokers
Interactive Brokers(officially Interactive Brokers LLC.) is a licensed broker dealer where you can buy and sell both stocks, cryptocurrencies (soon), bonds, funds, forex and derivatives. You can use Interactive Brokers in over 100 countries worldwide. They are SEC, FINRA and SIPC (which protects customer securities up to $500,000 (including $250,000 for cash claims) certified so no worries about the legal stuff. And yes they are 0 commission meaning you don't pay fees when you place a trade, more on that later. IBKR which is their mobile app is like any other stock trading app but has way more features and is also a free. Interactive Brokers has been around for a minute, 1977.
Features
Interactive Brokers has a ton of features, way more than other competitors such as Robinhood or WeBull. Here a few :
0 commission fee, 0 account opening/maintenance fees, and 0 account minimum deposit.
Full Pre and After market trading hours. (4:00 a.m. - 9:30 a.m. and 4:00 p.m. - 8:00 p.m.)
100+ technical indicators.
Candlestick and line charts.
Breaking news & Global market financial data.
Personalized portfolios, watchlists and alerts.
Timely customer service responding.
Paper Trading (learn to trade with fake money so you don't risk your own money first)
20,000+ stocks to buy on the Interactive Brokers platform.
API for algorithmic traders, build your own trading bots.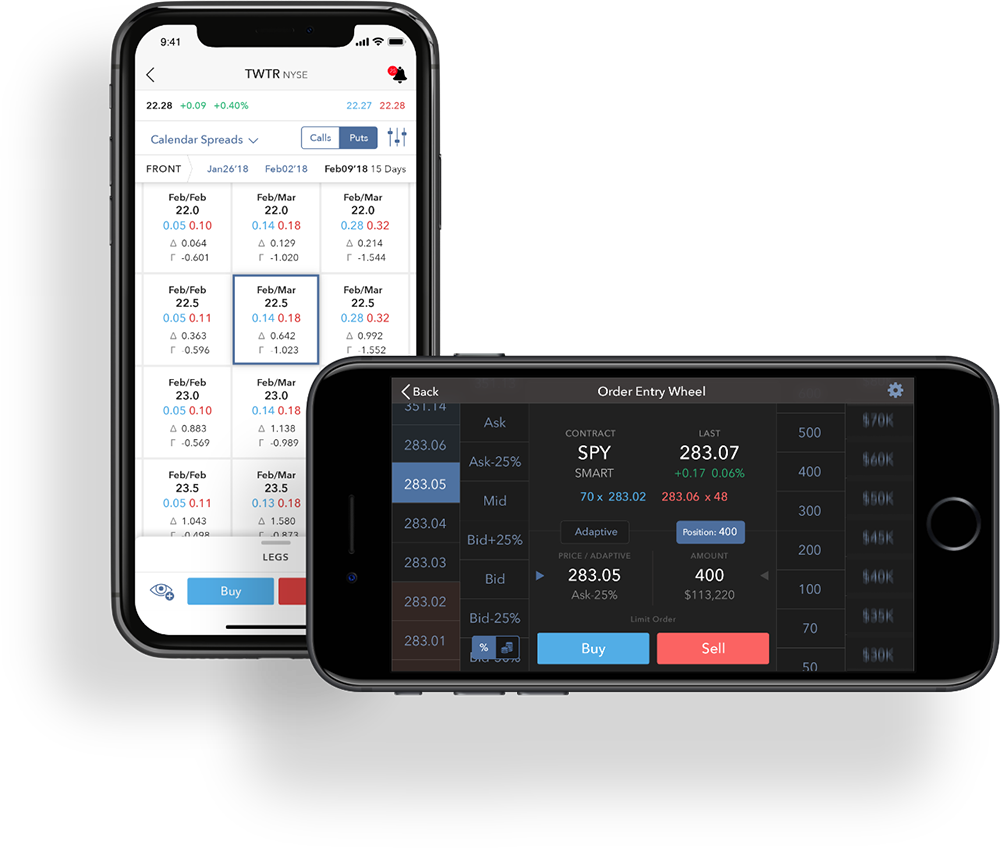 A cool Interactive Brokers graphic
so as you can see they have all the tools you need to day trade or invest long-term.
Really 0 commission?
Yes, 0 with the mobile IBKR Lite app. With IBKR Lite, there are no inactivity fees or data fees. All US stock and ETF trades are $0, while options trades follow the same IBKR Pro pricing. The main caveat to IBKR Lite is the lower quality order executions. Like other $0 brokers, under IBKR Lite, Interactive Brokers makes money off its order flow. Overall, IBKR Pro is designed for professionals, while IBKR Lite is designed for casual investors.
Interactive Brokers vs Robinhood
Everyone talks about Robinhood and how Interactive Brokers stacks up against it, here is our consensus:
Interactive Brokers is better for serious investors who want to do their own learning and make their own decisions based on the most up-to-date data available.While IBKR is definitely the more complex app, the two apps do have some basic things in common. You can use both of them to buy and trade stocks and cryptocurrency, and both of them provide the ability to buy on the margin.
Interactive Brokers also has an API that allows you make to automated trading systems where you can tell a computer to buy or sell an asset. This is extremely powerful and something Robinhood doesn't offer.
Robinhood is better for the beginner investors as it's extremely easy to use but once again lacks many core tools.
Both apps require a $2,000 starting deposit for a margin account – Robinhood calls theirs "Robinhood Gold". Whereas Webull charges you a percentage to make merging purchases, Robinhood charges dollar amounts ranging from $6 to $200.
Open a free Interactive Brokers account.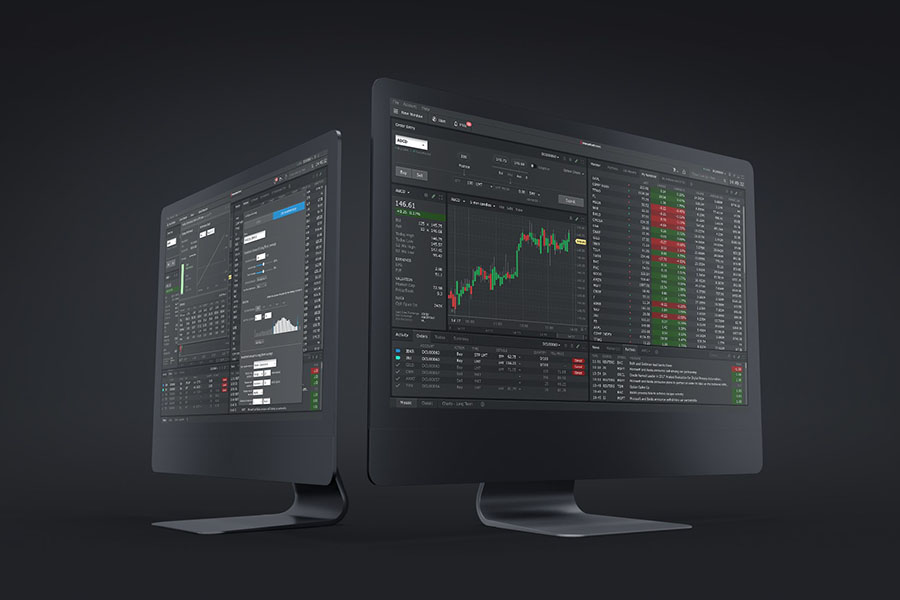 The Watchlist feature on Interactive Brokers
Need an Interactive Brokers trading mentor to help you get started? Check out Brad from Own The Chaos Investing who is a top trading mentor that can help accelerate your day trading and investing skills, become a mentee of Brad here : https://wetradehq.com/mentors/Own%20The%20Chaos
Our Conclusion: Pros and Cons of Interactive Brokers
After spending some time reviewing the features of Interactive Brokers, I gotta say it's really good. I am just amazed that it can bake all those investing and technical tools while at the same time making the app very user friendly for intermediate and expert investors, for beginners it can be overwhelming until you educate yourself.
We also think it's a big advantage that Interactive Brokers offers a virtual portfolio through which you can make fictional decisions about your assets and see how those decisions play out over time. This would be one of many ways for a new investor to learn his or her preferred strategies.
The downside to the app is that it's not very user-friendly for newcomers. There's a lot going on when you open the app up. This is a heavy-duty investment platform. If you're looking for something simpler, try Robinhood. Their user experience is friendlier and more design-focused that Interactive Brokers.
If your looking to get started investing in stocks and cryptocurrencies or your an expert and want to try a new stock broker check out Interactive Brokers.
Overall we prefer Interactive Brokers over Robinhood, what are your thoughts?